Did you know that the College offers government funded places and you
don't

need to be a student to apply for a place for your child?

We strive to provide an environment where children feel valued and included. As they learn through play, they are encouraged to develop their skills and knowledge by being fully engaged in the Curriculum for Excellence in order that they become successful learners, responsible citizens, confident individuals and effective contributors.
Children Ages
We provide quality child care for the following age groups:
Greenock: From 2 years 10 months – 5 years
Paisley: From 2 years 10 months – 5 years


Opening Hours

Greenock: 8.30am – 4.30pm (Monday – Friday)
Paisley : 8.30am – 4.30pm (Monday – Friday)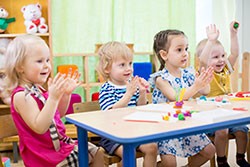 Key Information:
All of our staff are qualified to HNC level or above and meet the qualification requirements for the Scottish Social Services Council (SSSC) registration.
We operate on a term time basis, so both nurseries will be closed during all College holidays and in-service days.
Students applying for a College Nursery place must ensure that they have applied for their course funding and provided student funding with the appropriate paperwork/documentation needed prior to starting. Please note, you don't have to be studying at West College Scotland to secure a place for your child at either of our Nurseries. 
Nursery places are limited so it is essential to apply direct to the nursery as soon as possible.
Our nurseries in Paisley and Greenock provides government funded places, offering 1140 hours per year free child care, which can then be topped up privately or with student funding.